The Language of Architecture: 26 Principles Every Architect Should Know
by Andrea Simitch (Author), Val Warke (Author)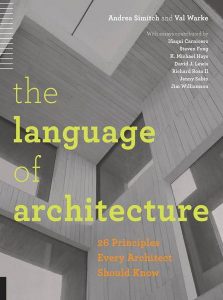 Analysis is the process of exploration and discovery with which an architect develops a familiarity with the assumptions, expectations, and conditions that are given and then establishes the conceptual lens through which all design decisions are subsequently made.
출처 – Amazon.com
https://www.amazon.com/Language-Architecture-Principles-Architect-Should/dp/1592538584/ref=sr_1_15?s=books&ie=UTF8&qid=1540892344&sr=1-15&keywords=architecture
---
WDS talk
실내건축을 하기 위해 잊지 말아야 할 원리를 소개한 책입니다. 건축을 꿈꾸는 학생이나 현장에 있는 동료들에게 추천합니다.