mecanoo and civic transform vast locomotive hall into tilburg's 'new living room'
described as tilburg's 'new living room', the LocHal is a converted locomotive hall that now houses a major new library for the dutch city. the building, which dates back to 1932, contains bibliotheek midden-brabant (the public library), kunstloc brabant (a regional knowledge and expertise center for culture and art), brabant C (a regional investment fund for culture and the creative industry) and seats2meet (a series of co-working spaces). the project's architect is civic, with mecanoo responsible for the interior design.
틸버그시의 새로운 리빙룸이라는 개념은 옛 기차역에 퍼블릭 라이브러리, 컬쳐와 아트 센터, 컬쳐와 창조적 산업에 투자하는 인베스트먼트 펀드, 코워킹 스페이스 등등이 제공 된다.
또한 곳곳에 바 와 카페등을 제공하여 자연스럽게 프로그램들이 융합 되도록 디자인 되었다.
visible from passing trains, the city café features a bar with red, brown, and gold ceramic tiles and a neon LocHal logo. the site's old railway tracks are used to move three large wheeled 'train' tables. a single table can become the extension of the bar, or when placed together, the tables can become a stage or catwalk with the adjacent stairs as a tribune. the tables can even be moved outside along the tracks to form a stage for external events.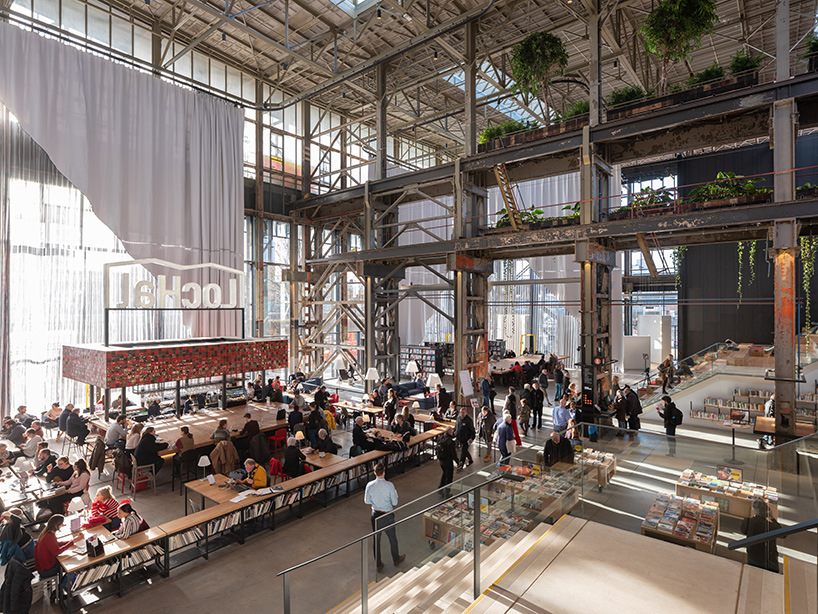 next-door is the reading room with magazines, and next to that is the kunstloc exhibition space. the textile walls, which have been designed by inside outside, are inspired by tilburg as a textile city, and create intimate spaces within the large setting. 'characteristic historical elements form an exciting combination with new oak and steel additions, and a warm color palette of reds and oranges,' says mecanoo. 'the interior is varied, playful and innovative. there is a diversity of atmospheres for meeting, collaboration, and concentrated work.'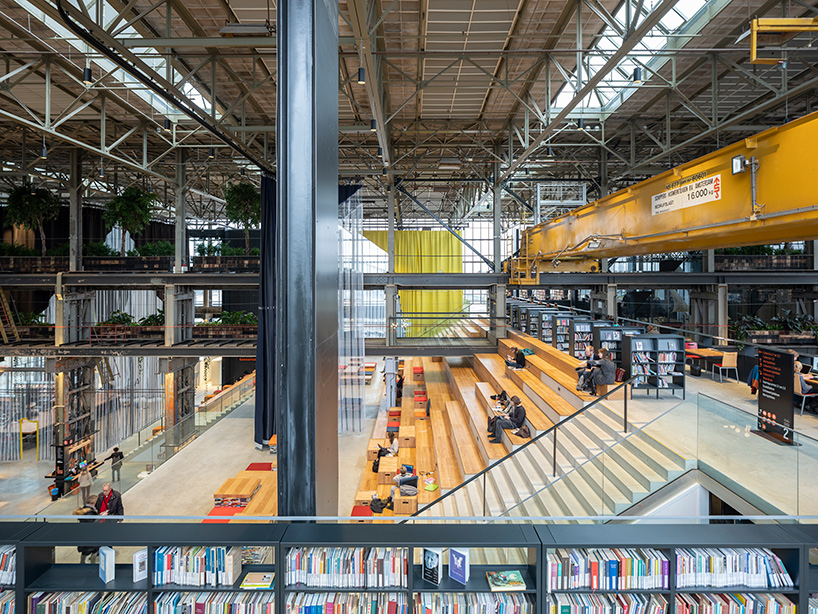 traversing the building is an interior street lined with industrial columns on which old layers of paint are still visible. by fitting the columns with wooden tables and lighting, they are given a new lease of life as places for reading and studying. the street is flanked by bookcases, while low mobile display units present literature as if in a bookshop. the bookcase wall on the office side has transparent display cases for works of art and books. this wall also offers staff a balance between privacy and connection with the library.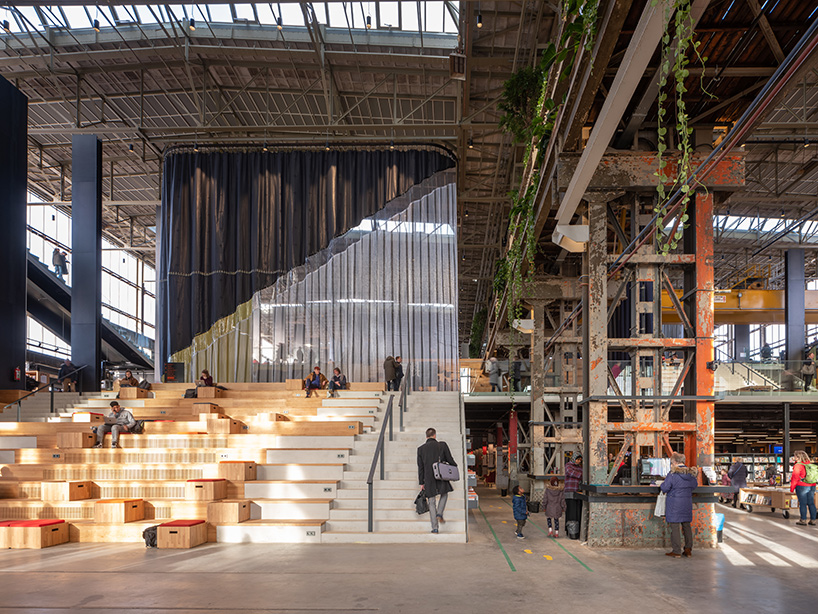 the stair landscape that civic architects designed for the monumental space takes visitors to the upper floors.flexible wooden seating elements mean that the setting can be configured according to each user's needs. the efteling theme park, the largest theme part in the netherlands, is the source of inspiration for the children's library. here, bookcases take on the form of colored pencils or rulers, while occupants can walk through giant fairytale books.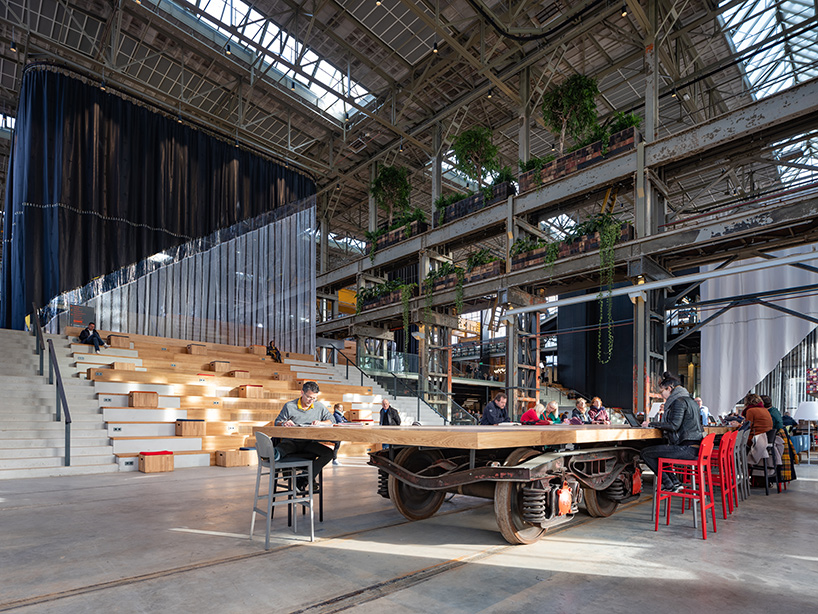 elsewhere, the youth zone is animated with colorful train seats and tables that offer space for different learning settings, such as concentrated work, collaboration, and meeting. this zone also features the gamelab, one of the building's many 'laboratories'. 'the LocHal is not only a library, but also a laboratory where you are challenged, gain new knowledge and learn about new innovations,' explains mecanoo. 'these specially designed labs can be found throughout the building.' see designboom's previous coverage of the project here.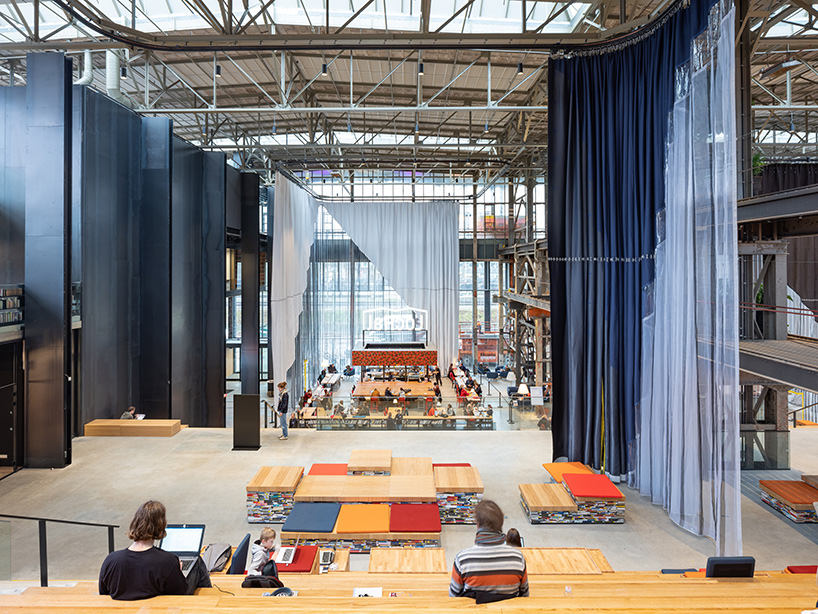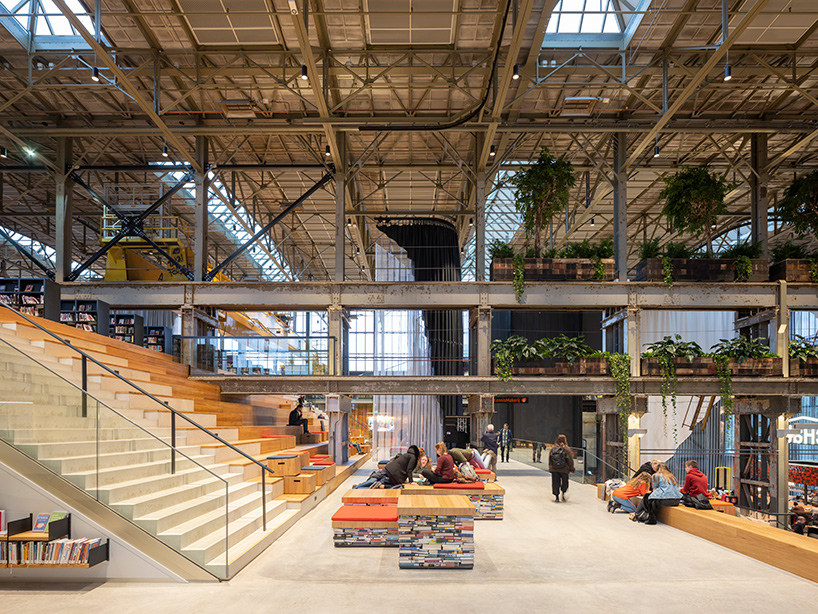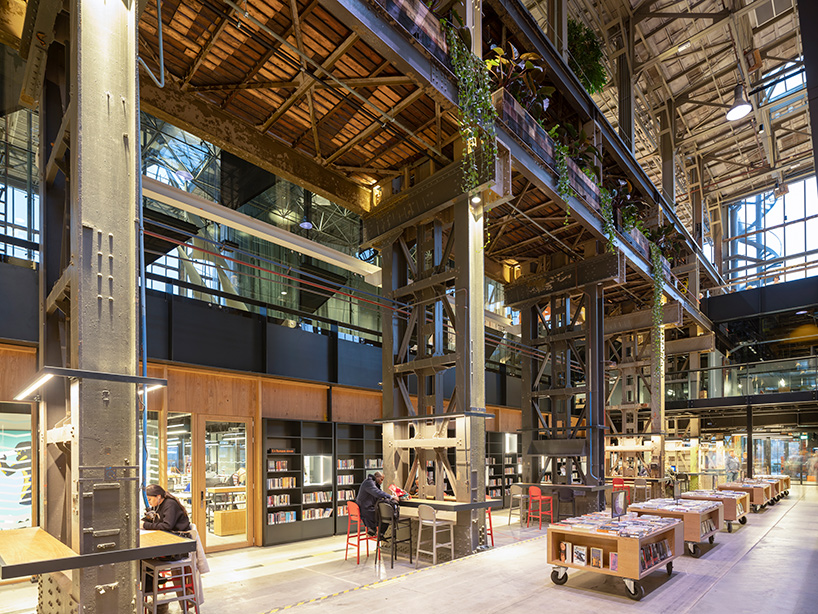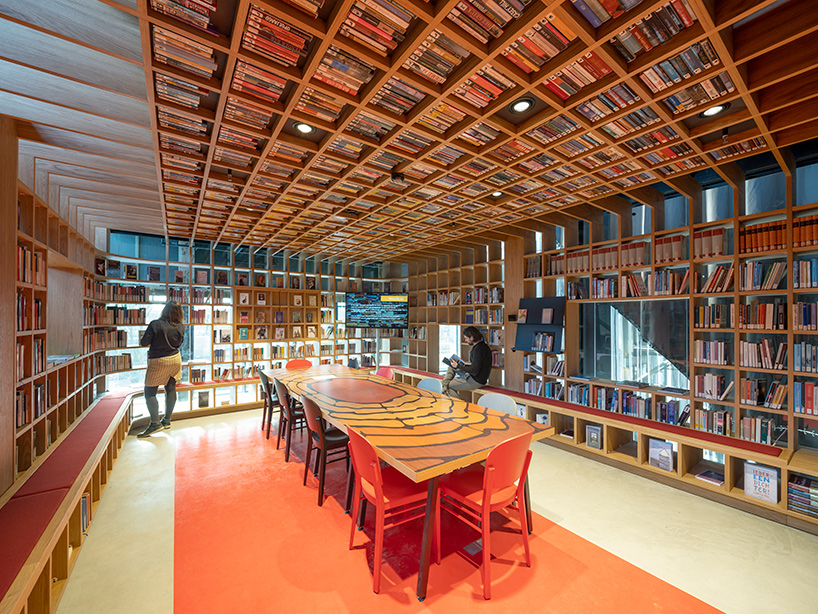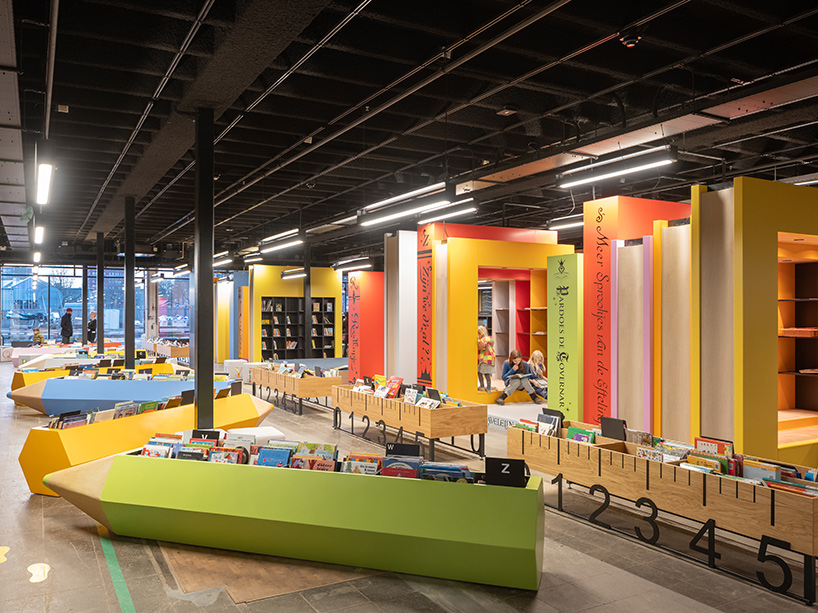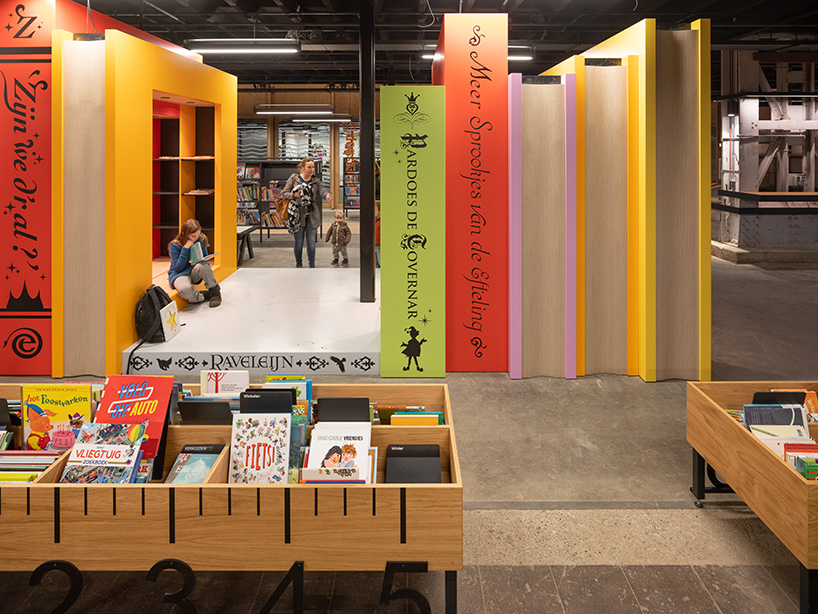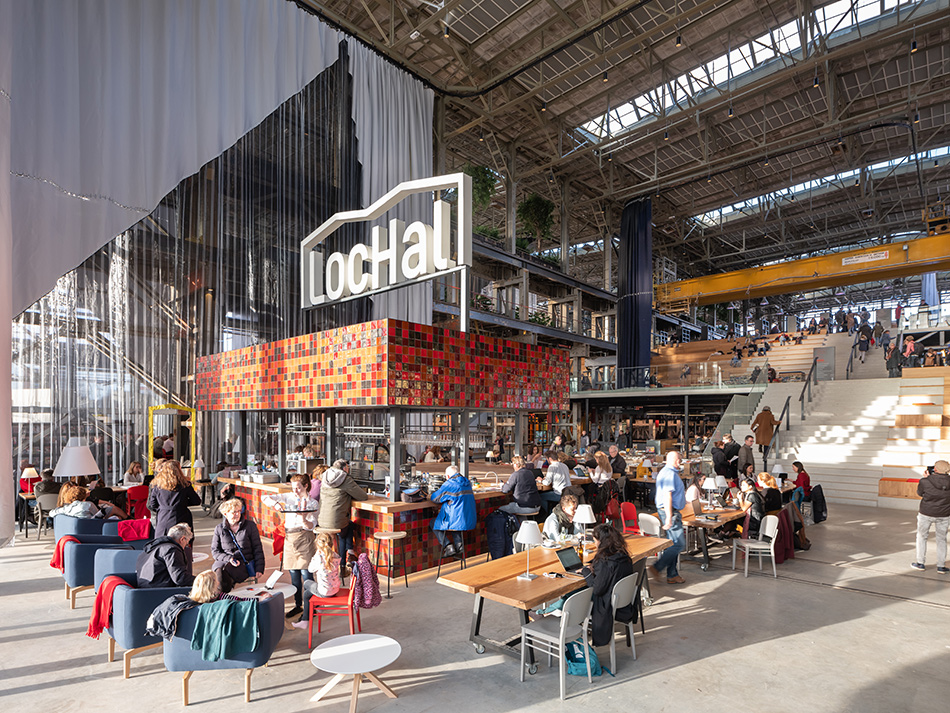 image © ossip architectuurfotografie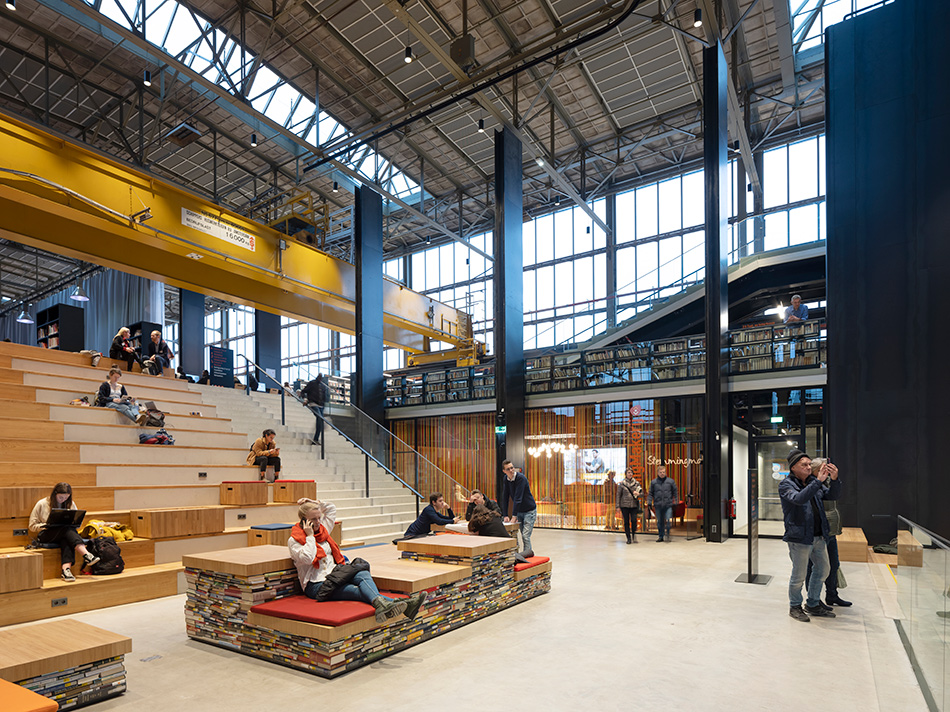 image © ossip architectuurfotografie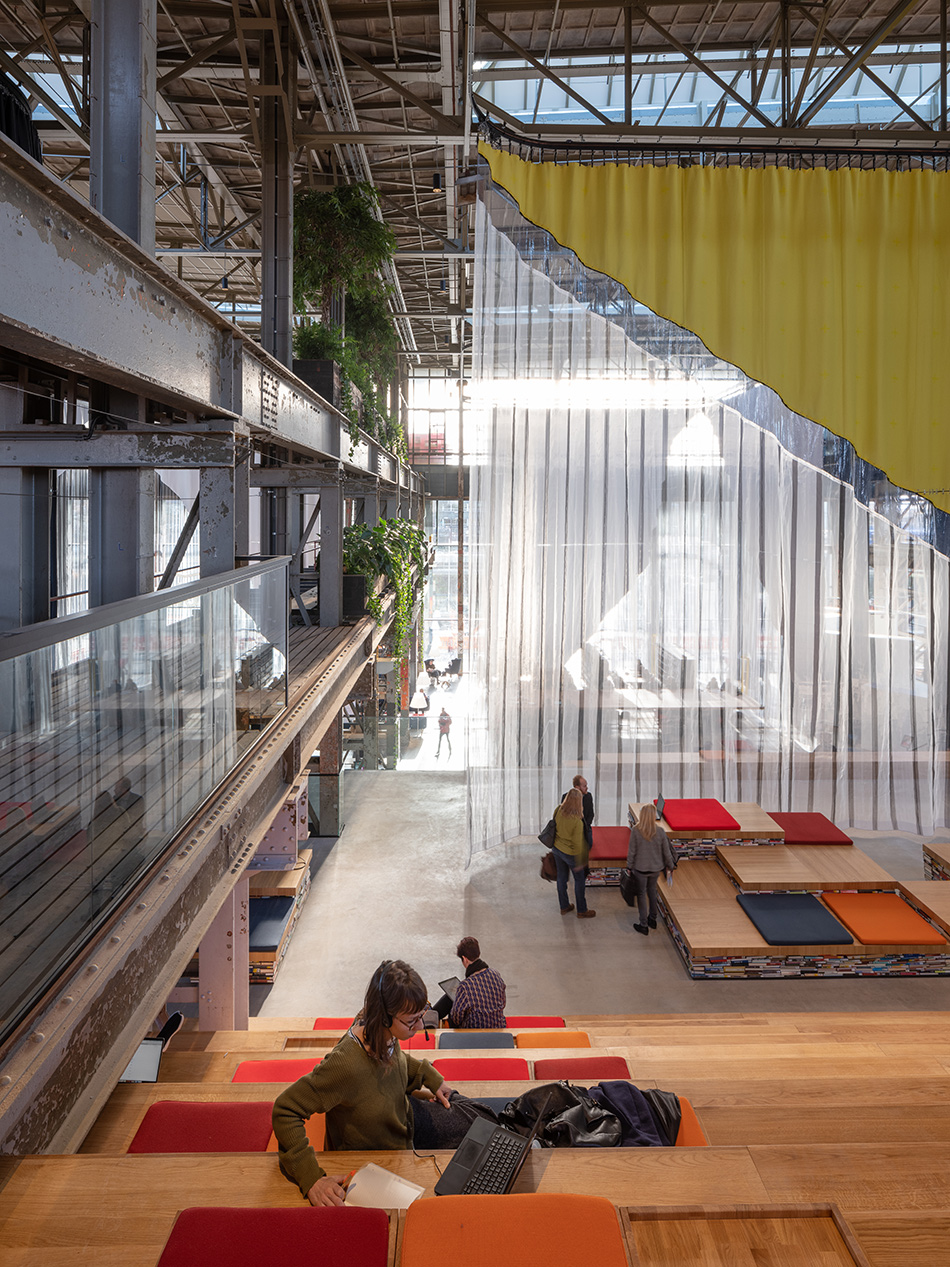 image © ossip architectuurfotografie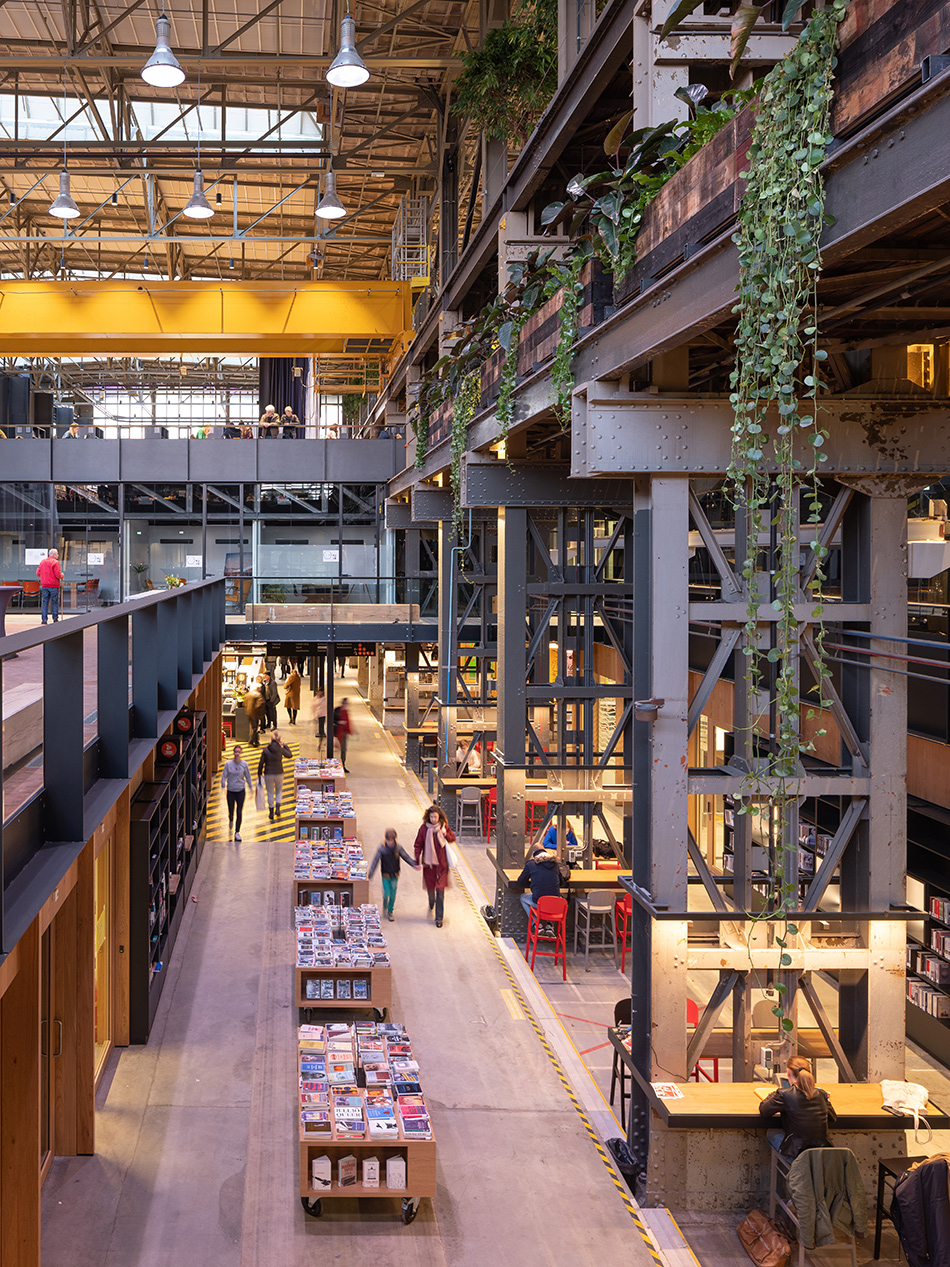 image © ossip architectuurfotografie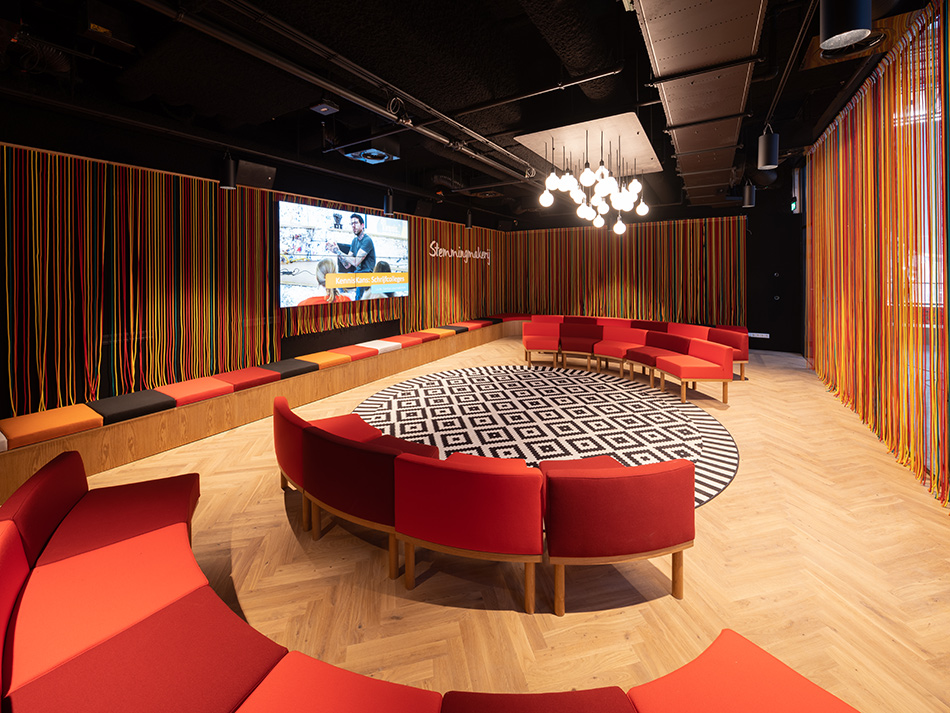 image © ossip architectuurfotografie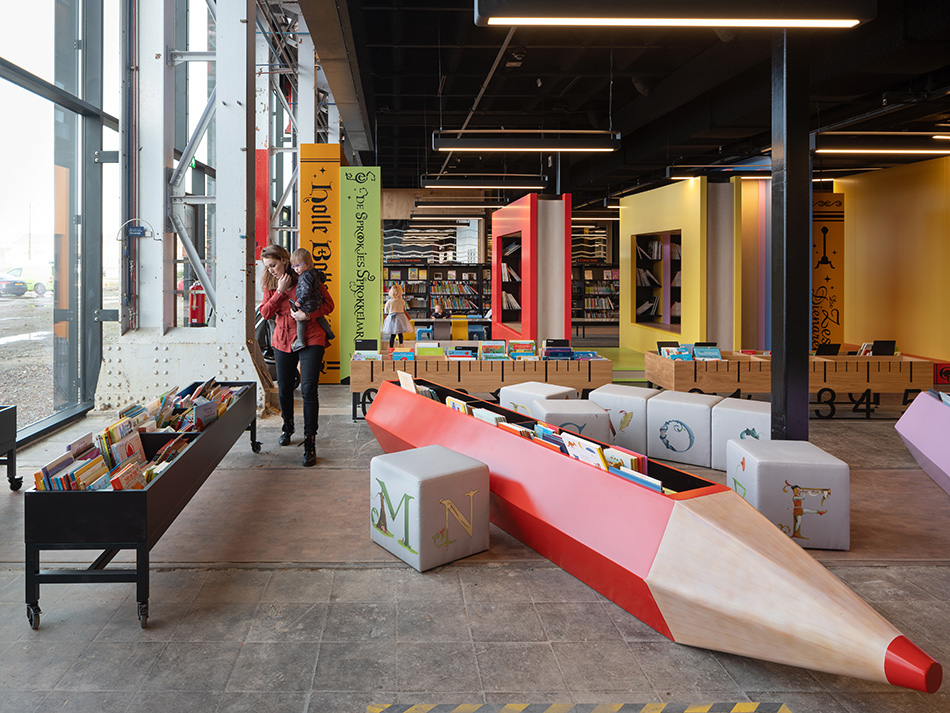 image © ossip architectuurfotografie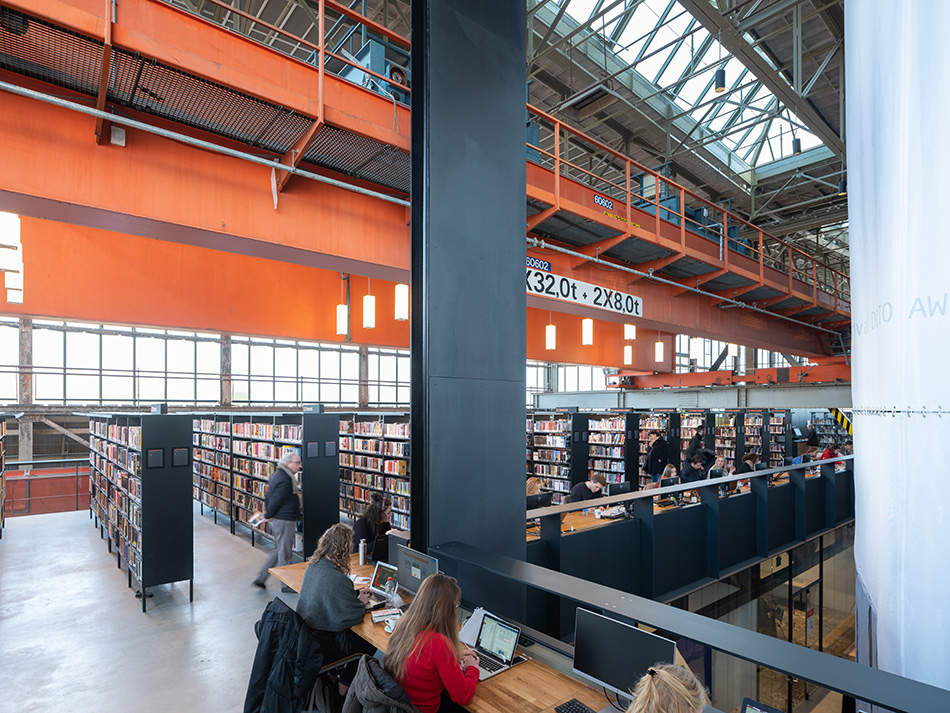 image © ossip architectuurfotografie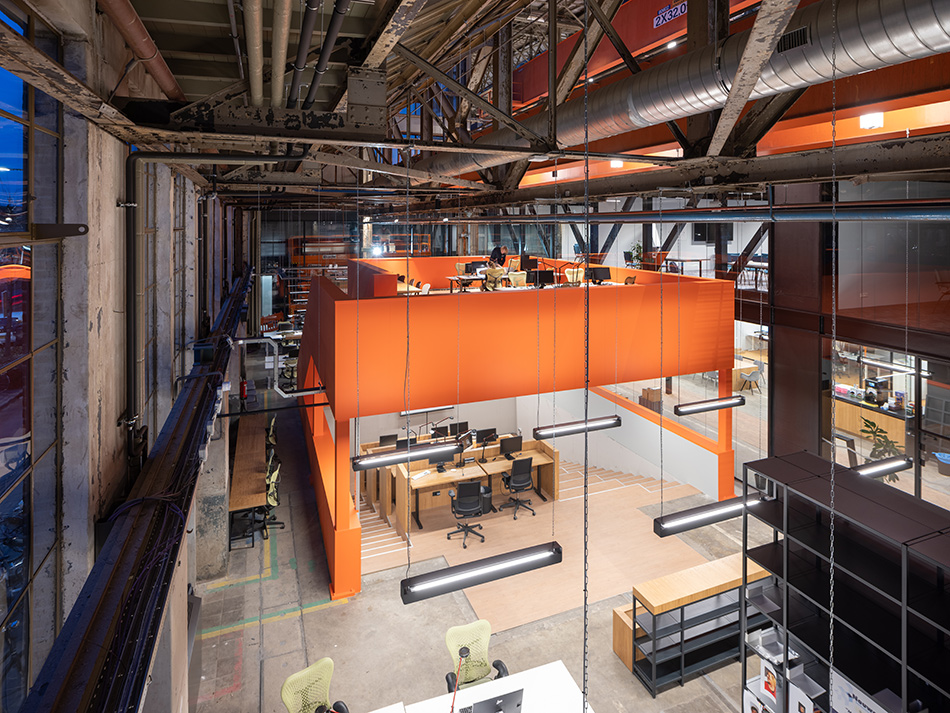 image © ossip architectuurfotografie
project info:
program: mecanoo was responsible for the interior design of the bibliotheek midden-brabant, kunstloc brabant and brabant C in a former locomotive hall of the dutch national railways. the interior design comprises 7,000 sqm including 1,300 sqm of offices
architect: civic architects
restoration architect: braaksma & roos architectenbureau
interior concept and textiles: inside outside and textielmuseum
interior design: mecanoo architecten
design: 2016-2018
realization: 2018
client: bibliotheek midden-brabant and kunstloc brabant
structural/mechanical/acoustic/lighting consultant: arup, amsterdam
photography: ossip architectuurfotografie
wds생각
현 디지털 노마딕 시대에서  과거방식의  건축프로그램에 의해 지어진 공간들은
지속적으로 잉여공간이 양산된다.
모바일 테크놀로지로 중무장된 디지털 노마드들은 시간과 장소에 통제받지
않고 지속적으로 소통하고 생산하며 소비를 하고있다.
이러한 새로운 생활방식과 패턴이 과거의 건축공간 계획은 충족 시켜주지 못한다.
과거의 잉여공간의  대표격인 정부소유의 기차역같은 퍼블릭공간을 부수고
새로 개발하는 방식이 아닌 과거의것을 보존하면서 현 디지털 노마드 들에게
적합하고 효율적 공간으로 개조하여 제공 되는 것은
매우 획기적 발상이며  메카누건축이 이를 훌륭하게
해냈다고 생각한다.